Improving the in-store customer experience
Digital kiosk
Client
Kubota Australia
Industry
Agriculture
Responsibilities
User interviews, user personas, research synthesis
Team
Redhanded (Clemenger BBDO)
Background
Kubota is a manufacturer of farm machinery and construction equipment. In Australia, Kubota partners with 100+ dealerships which make up for the majority of sales.
Challenge
Kubota offers an extensive machinery range and variety of product models. However, understanding the differences and comparing products can be a difficult task for a customer.
How might we improve product information that is beneficial for the in-store customer as well as the dealer?
Research
The research approach for this project was very lean. Nonetheless, the insights turned out to be incredibly valuable for both this project and for broader business insights.
We interviewed six dealership managers. Unfortunately there was no opportunity to interview customers, but as dealers are the main contact for the customers, we expected them to have a good sense of the in-store experience, tell us about the interaction with their customers, their needs and pain points.
Insights
The interviews gave us great insight into the dealers' operations but more importantly, the customer.
Kubota works with three customer segments: hobby farmers, professional farmers and construction workers. A key learning was that construction workers hardly ever come into dealerships and handle most sales over the phone.
Therefore, the content for the kiosk would need to focus on the agriculture/farming segments only.
Secondly, most dealers find it difficult to follow-up on walk-in customers, as they currently only capture customer data upon completion of a purchase.
It therefore became a requirement to capture customer data in an early stage.
And thirdly, dealers indicated the difficulty of highlighting all product features and functionalities as not all product models are on display in-store (and the product catalogue does not display all products either).
So for both dealers and customers, the kiosk should serve the need to compare and browse the complete product range.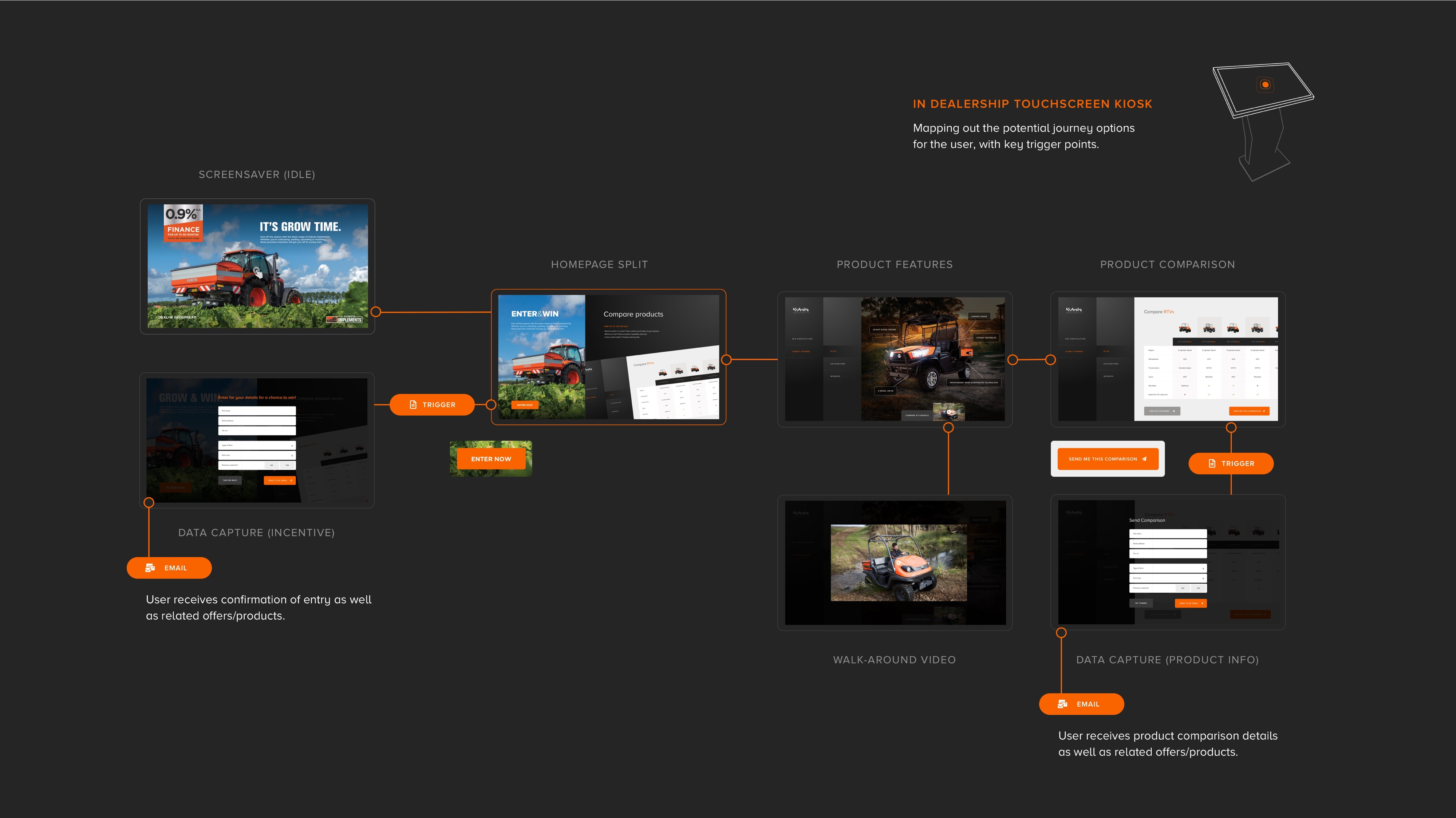 Solution
Our design solution is a digital kiosk that is integrated in the in-store buying process, providing customers with the essential information to easily compare agriculture machinery, whilst capturing customer data for dealers to be able to follow-up the conversation after a customer visit.
The kiosk's screensaver will promote the latest product offers. By touching the screen, a welcome split screen will appear with an option to enter a competition and win a prize (data capture point 1) or find find and compare product features with an option to save and email information for future reference (data capture point 2).